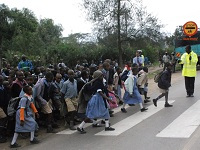 Transportation safety is a growing concern in cities around the world. Every year more than 270,000 pedestrians lose their lives on the world's roads, while millions are left with injuries or permanent disabilities.
The World Health Organization (WHO), FIA Foundation, Global Road Safety Partnership and the World Bank recently co-published a manual titled "Pedestrian safety: a road safety manual for decision-makers and practitioners".  On 07 May 2013, Nairobi Planning Innovation interviewed Dr. Meleckidzedeck Khayesi, one of the lead authors of the manual, to get his perspective on the findings and intentions of the project.
Please note that Dr. Khayesi and Dr. Margie Paden from the WHO Department of Violence and Injury Prevention Disability will be hosting a live discussion about pedestrian safety on Twitter, Friday, 17 May from 17:00-19:00 Nairobi time. Join the talk or send questions as Tweets to @UNRSC using the hash tag #walksafechat. For more information contact  [email protected].
******************************************************************************
Nairobi Planning Innovations:: Please tell us a little bit about yourself and how you got engaged in issues of pedestrian safety as well as your role in producing this manual
Dr. Khayesi:  I am a Technical Officer in the Department of Violence and Injury at the World Health Organization (WHO). I studied at Kenyatta University earning a Bachelors degree in Education, a Master of Arts degree in Geography and a PhD in the field of Transportation Geography.  I have worked at the World Health Organization (WHO) for twelve years in the department of Violence and Injury.  Over the last seven or eight years, WHO has collaborated with the World Bank, FIA Foundation for the Automobile and Society and the Global Road Safety Partnership to produce a series of 'how to' manuals, which provide information on how to implement recommendations of the World report on traffic injury prevention. Included in this series are manuals on helmets (2006); drinking and driving (2007); speed management (2008); seat-belts and child restraints (2009); and data systems (2009).  The coalition's most recent report, 'Pedestrian safety: a road safety manual for decision-makers and practitioners' is another step in this effort to provide information on measures to implement to pedestrian safety around the world.
Nairobi Planning Innovations: What was the most surprising aspect or finding in producing this manual? Continue reading →