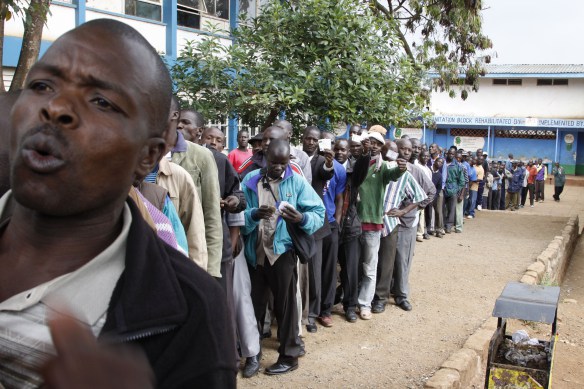 The Independent, Electoral and Boundaries Commission (IEBC) chairman Issack Hassan has recently announced that all returning elections officers are required to report results directly to the national tallying centre at the Bomas of Kenya in Nairobi (read more here).
The IEBC says that its delays are due to technical failure, but regardless, they leave voters eagerly awaiting results for the Presidential, Gubernatorial, Senatorial, Member of Parliament, and County Assembly races.  During this time, Nairobi resident Daisy Maritim reflects on the Nairobi Governor race:
Kenya: Reflections on the Nairobi Governor Race
…"It gets me thinking; do the candidates we have make the grade? And this takes me back to the guy I might have fallen for. I first laid my eyes on Cliff on the evening news when he was being roughed up and arrested in Embakasi. I might be mistaken; maybe he was pelting someone with stones. I can't quite remember now.
What I vividly recall though is the gubernatorial 'debate' on Citizen News a few weeks ago when he faced off with the haughty Kidero. May I just slightly deviate by pointing out that all this talk of decentralization is doing things to us.
For one, it has augmented our political vocabulary and we now have words you can't look up like 'gubernatorial' rolling off our tongues in everyday discourse.
Anyway, as I was saying, there was a 'gubernatorial face off'. The next day, the internet was abuzz with discussions and comments on the Waititu-Kidero interview.
Few political occurrences have gained such unanimous opinions as that fiasco. I believe Kidero could not have appeared more contemptuous had he actually spat on Waititu! The word arrogant has since been invariably used to describe him.
Cliff, on the other hand was calm. He appeared to be in touch with the people and his feelings. Humbly bragging about starting 17 schools in a remarkably short period of time.
About always being on the frontlines with his people fighting greedy, corrupt Fat Cats. So you can see how the cool, calm and collected man of the people appealed to me. As he has done over the years to the residents of Kawangware, Embakasi, Eastleigh, Pumwani, Majengo, Kibagare, Mukuru, Umoja, Kayole……
Anyway, so here is what it boils down to. These are our contenders for Governor, ladies and gentlemen of Nairobi. On the one hand, a disdainful, 'elitist', highly educated PhD with years of experience in multiple high-powered jobs. The Solid Manager. However, this man seems worlds away and out of touch with the mwananchi 's daily struggle.
On the other, we have a rowdy, down to earth, police bashing, sheng speaking, spitting-as-he-speaks, Skilled Politician. A man whom Mutahi Ngunyi called a 'Rocking Chair' leader: "…keeps us busy, takes us nowhere!"
Here is where I am conflicted. My head is with Kidero, my heart is with Waititu. Notice that I do not mention their party affiliations. As far as I am concerned, those are tribal vehicles that are in place just to guide the colour schemes for their campaign outfits and tents.
Not to undermine the merits, achievements or even intentions of the two men, but I ask. Where are all the potential great leaders that would have us spoilt for choice and cause us to vote based on more solid issues than personality, or political strategy or for all we know, dress sense? (Think the wondrously flashy, mohawked, blinged up Sonko)
We are talking about the most important county. Our economic hub, Nairobi. So what do we want from the guy who clinches the all-important job?
This brings to mind my college days in Australia. I spent a lot of cumulative hours You-Tubing the (frequently drama filled) Kenyan news, and so I did a lot of reflection on the political and economic situation back home. Of course I couldn't help but constantly draw comparisons; and I find that we can learn quite a bit from the federation of folks down under.
The Aussie 'Premiers' (counterparts to our governors) are so much more accessible than our most obscure MPs here who would probably have a bodyguard who has a bodyguard who has a guard dog armed with a gun. Anyway, that's beside the point. And I'll make two.
Firstly, A casual observer of the Australian system will tell you that one of the Premiers' critical missions is to ensure that the State's GSP (Gross State Product) goes up, and stays up.
The Premier of Western Australia, for instance, would work his rear end off to retain the State's position of being the number one contributor to the country's Mineral and Energy Export.
Why? Jobs for Western Australians. Top- notch infrastructure. Clean Streets. Smooth roads. Did I mention jobs for Western Australians? The Premier of Queensland, for the same reasons, would fiercely protect the tourism industry; nothing will jeopardize the Great Barrier Reef. Not on her watch.
Secondly, and as a consequence of the first point, everything worked! From the state bus service keeping a schedule, to the government office getting back to you when they said they would, to the garbage collection system. And I definitely don't remember ever trying to avoid a pothole in Adelaide!
Now let's examine the situation on our side of the ocean. Can a devolved system help us match the Australians? I don't think it's a thought too far-fetched.
One of the merits of devolution is that the local government is more closely watched by The People. Results, being more localized, are more visible.
And before you say it, I'll say it myself. I am not too idealistic. Yes we may be, to paraphrase Kidero, "…a city under excrement " but it doesn't have to stay that way.
Maybe Waititu can excavate us from the stinking mess, with a noisy bulldozer in typical Baba Yao fashion. Or maybe Kidero can, shoveling in a systematic, strategically planned way. Both reaching the same end goal.
Let the central government worry about the big picture- foreign policy, defense and what not. For now, we can fix our eyes on these Governors county by county and see that the tea industry in Kericho is vitalized, tourism in Mombasa reaches an astronomical boom and indeed, that debt riddled, ill equipped Pan paper factory in Bungoma is restored back to its glory days."
Daisy Maritim is an independent blogger in Nairobi Kenya.  Her article, 'Kenya: Reflections on the Nairobi Governor Race' was recently published in The Star newspaper (click here for link).