By Jacqueline M. Klopp
We hear a lot about "smart cities" these days.  Even though endless terrible crashes on the roads, poor services and the recent flooding of Nairobi does not feel "smart", a movement is afoot that could help to make city planning "smarter".  A bottom up movement to use technology- especially the cellphone-to help see and understand Nairobi's problems is occurring. The idea is that data can help in the push for problems to be fixed. This movement has the potential- if embraced by government and citizens- to make the city better if not "smarter". In this NPI blog post, I review some interesting recent examples from the transportation sector and at the end invite you to participate in this movement by providing feedback on some exciting new projects.
A lot of transportation "planning" in the city is currently done in the dark with little or no data to inform it-even with all the consultants around for "capacity building". This means a lot of talk and no action on specific priority areas that need addressing. At the same time,  around 300, 000 Nairobians are using the popular app ma3route everyday to provide streams of data via twitter on topics such as traffic conditions, police behaviour and crashes. Recently, former MIT student Elizabeth Resor, working for ma3route took the crash data from tweets from May 2015 through October 2015 (7,817 reports about 3,941 unique accidents  and validated 1,900  of them) to make the very first Nairobi accident map . This helpful map reveals some of the serious black spots that need redesign. It also shows that PSV vehicles get in a lot less crashes than cars and trucks, but they affect more people because they carry more people.
Another project that helped Nairobians and planners is the Digital Matatus project that mapped out the matatu routes, made the data open and created a public transit map for people in the city.
This data also put Nairobi transit on Google Maps, a first for any African city. This allows you to find how to get from one place to another in Nairobi by matatu. However, the data needs to be updated continuously for it to be accurate. In most cities in the world, a transit agency usually collects this data or mandates that operators collect and share this information as a passenger service, but this has not yet happened in Nairobi. Instead, Digital Matatus is developing some creative strategies to keep this data live by engaging Nairobi citizens.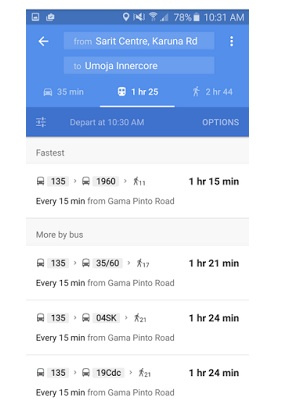 Out of this problem, ma3route with the Civic Data Design Lab (MIT) and the C4D Lab at the University of Nairobi, both key partners in the Digital Matatus project, collaborated in the class called the "Crowdsourced City" taught by Sarah Williams, MIT Assistant Professor of Planning and Urban Studies. After many conversations with matatu drivers, citizens and policymakers including the National Transport and Safety Authority which is also developing some important new e-services, the students in this class developed some innovative apps to help generate more valuable information for Nairobi citizens and planners. They are currently testing them out and welcome your feedback. 
First, check out ma3tycoon where you can help verify matatu stop data and then compare your answers to others. This little game is designed to help keep up-to-date information on the matatu system. Next, how about ranking your matatu driver? Or if you are a matatu driver and want to brag, check out SemaMa3 which also gives you crash information from ma3route. If you want to see the tweets from ma3route on a map, then Ma3Map is for you. In once glance you can see what people are saying at specific locations. Finally, check out Twiga Tatu which will help you share fare information and as you do so, we can accumulate important information on what matatus are really charging. Clearly, there needs to be a discussion of this issue. All these apps are in testing mode and open for feedback.
So with citizens and cellphones, we can move towards making Nairobi smarter by providing better information and sharing this information for the public good. With advocacy, this shared data can help to make the city function better. For example, if large numbers of Nairobians suggest a problem with the same matatu, then there is an opportunity to take up the issue with the SACCO and NTSA backed by numbers and data. We can also keep transit data updated for travelers and share information about problems through ma3route which can later help us figure out when problems like crashes keep recurring and demand road redesign for safety.  Ma3route data was even used to figure out how well Kidero's drums worked on traffic flow!
Ideally, the Nairobi City County and the Ministry of Transport and Infrastructure should take a lead towards collecting the data needed for transportation planning and make it widely available for citizens and researchers in an open transport portal through the Kenya Open Data Initiative.  But for now, these growing efforts at being a " smart city" from the bottom up are showing that a lot can be done to start to understand the city including its transportation. Crowdsourcing data can be a helpful way for citizens to help each other, contribute to planning and  push in an informed way for concrete, targeted changes that need to happen on on the ground.