One of Bogota's most successful mayors, Enrique Penalosa, once said "The measure of a good city is one where a child on a tricycle or bicycle can safely go anywhere."   "Children are a kind of indicator species. If we can build a successful city for children, we will have a successful city for all people."
On November 8, 2014 Reality Tested Youth Program (RYP) exhibited some of the urban planning ideas of children from some of the poor informal schools in  Mathare. This is part of a project to explore the city from children's eyes. NPI asked David Shisya, a program officer at RYP about the work and its implications.
NPI: Can you describe the work you do for RYP?
Reality Tested Youth Programme is a Community Based Organization (CBO) with a vision of having a society in which members participate in community development to address poverty. Currently the organization operates from the Ongoza Njia Community Development Centre (OCDC) at Kiamaiko- Huruma. RYP is non-governmental, non-partisan and not for profit, legally registered, by the Ministry of Gender, Children and Social Services.
RYP works in collaboration with 150 partner community associations/Self Help groups bringing together directly approximately 3,000 families in Mathare, Nairobi North District, Nairobi County, Kenya. The centre also serves as an "open forum" where people from the local communities drop-in to discuss, explain or express social, economic, or judicial issues and then receive guidance on how and where they can address their concerns.
In order to achieve its objectives, RYP offers direct services through the OCDC to partner CBOs. These services include provision of information, CBO leadership and management training, popular civic education, community based asset mapping and resource mobilization, computer and Internet skills training, environmental conservation, access to venues to hold meetings, assisting youth to acquire education and skills training sponsorships, support towards Community Economic Development (CED) activities and entrepreneurship training, support for youth in accessing national identity cards and other vital documents such as birth certificates, linkages to health care services (HIV/AIDS care giving), counseling, and supporting target partners to access legal assistance and justice (domestic violence, rape and general domestic issues.
NPI: Recently, you ran a competition focussed on children as urban planners. Can you describe this work?
Reality Tested in collaboration with the Center for Sustainable Urban Development at Columbia University conducted an idea competition among informal school pupils from Mathare whose main purpose was to gain insight into how children see their neighbourhoods and city and what they would like to change. The five participating schools provided 12 pupils each aged between 9- 16 years for the competition. These schools were Codman academy, Destiny educational centre, Undugu Society of Kenya-Mathare UBEP, Reality Tested youth and Furaha Community Centre.
The idea competition was in two forms. First, there was the Focused Group Discussions (FGD) with the pupils in their respective schools. During the FGD the facilitators used structured questions to stimulate the participants into discussion.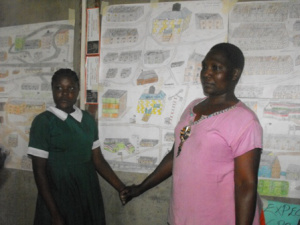 After the FGD, they moved to the next stage of drawing their neighbourhood as it is and if given an opportunity what they would like to change.
On 8th November 2014, 180 people attended an exhibition of their work at NCCK-Huruma. Participants, parents/guardians, representatives from the Mathare community, Nairobi County government representatives, other invited guests and the Assistant County Commissioner graced the occasion. The picture walk gallery begun as from 9.30 to 1.00 pm. All the participants were given book vouchers of 800 shilling each as a sign of appreciation for taking part in the competition.
NPI: What did you learn about poor children's concerns and priorities for their neighbourhoods?
During the exercise, it's clear from the FGD and the drawings that children's concerns and priorities areas to be looked into are as follows;
Unplanned structures/dwelling in their neighbourhoods
Poor garbage /sewage disposal systems
Poorly constructed roads with potholes
Insecurity
Congested/crowded structures- in case of fire all structures burn down
No playing space/grounds for children
Lack/Poor infrastructures e.g. no electricity/ dangerous hanging wires
Lack of toilets
Lack of road signs such as Zebra crossing , speed limits near schools
Traffic jam
NPI Do you think planners in Nairobi think about creating a "child-friendly city" for the large numbers of children who need to move around-to get to school, visit friends and family or get exercise?
The planners so far have not considered 'child friendly city' as most roads lack the basic signs such as Zebra crossing and speed limits, for example  on Juja road which serves the schools in this area.
No space has been set aside as a children's play ground. Those that the former city Council of Nairobi set aside have all been grabbed by influential people who have put up illegal structures. A part from the public schools grounds, the only one available used by non formal schools in the area is the Austin ground near Kiboro primary which if not protect might end up being grabbed.
Also, the footbridges constructed on Thika super highway are unfriendly to young children. At times they have to be carried by guardian to pass. The footbridges at the same time are far apart from one another causing more inconvenience to road users.
NPI: What are some of the safety concerns for children in the neighbourhoods where Reality Tested Youth Program works?
No road signs that makes children crossing roads very dangerous. Near Kiamaiko where our office is located many school going children have been knocked down by speeding vehicles.
There are no speed limits signs for vehicle along Juja road.
No playing grounds for schools making them use any space available such as the potholed roads thus endangering their lives.
Poorly constructed Iron sheets schools with as many as 100 children sharing a single toilet making spreading of disease inventible.
Pupils' mistreatment in Matatus as they are ignored by the matatu crews, made to stand for long distances despite having paid the normal fares
NPI: The Outer Ring Road project will impact a lot of poor communities and children used to a much smaller, almost rural road. Do you have concerns about an upgraded road in your neighbourhood?
Yes, as an organization we have concerns namely that the wide road will lead to an increase in number of accidents as most residents will still attempt to cross the road avoiding the footbridges just as it happens on Thika superhighway. A long the 13 km stretch the footbridges to be constructed are few and way apart which may result in inconveniencing the residents especially the school children.
The traders along the road who will be displaced and not relocated might attempt to occupy the sideways also leading to accidents.
NPI: The proposed Traffic (Amendment)  Bill 2014 has provisions dealing with safety for school children including reduced speeds especially in school zones. Do you have any thoughts on this?
 Traffic Act (Amendment) Bill 2014 Section 3A (1) limits speed to 30km per hour on any road within schools boundaries and (b) on any section ordinarily used by children. This is currently not observed by both private and public vehicle drivers. Vehicle speeding near schools has led to an increase number of death and injurious to school going children.
Section 3B (1) (b) requires construction and maintenance of traffic signs such as speed limiting designs features such as speed bumps, rumble strips and traffic circles. Rigjht now all these are non existence on the Kenya roads.
Sub section (d) calls for ensuring that no man made or natural obstructions including stationary vehicles on roads or parking areas are near schools  blocking children's view of the road.
The rules are good and should be implemented but to make all of this work, there is need for public awareness  to the drivers, school children and administrators and the general public at large.
NPI Can you share with us, the most striking urban planning ideas you saw coming from the children's drawing competition?
The most striking idea from the drawing competition is the disorderly planning of the current neighbourhood children stay in. All the participants drew enhanced pictures of how they would like their neighbourhood and city to be from what it is now. Most were dissatisfied with the state of things as per now.
The Top-Bottom Approach currently used by planners with minimal participation from the consumers is undesirable. As end users of the projects the general public intentionally ignore the correct use of the project such as use of footbridges on Thika Highway and prefer to cross the road by running across to the other end.
In future there is need, before any project is undertaken, for local participation of those to be affected so as to feel part and parcel of the decision making process.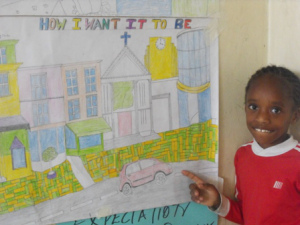 NPI: And planners need to think about how children experience their city and how planning can involve them and also make the city a safer and friendlier place for them!