Published on 24 October 2012 by Prisca Oluoch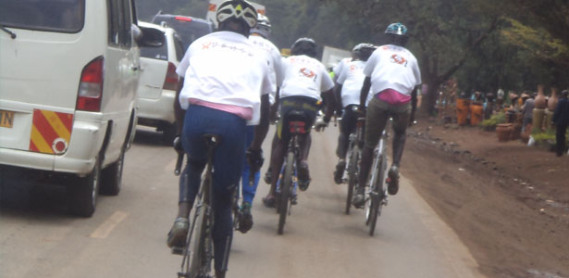 Above: Cycling to Stomp out Cancer event, 13/10/12, Uhuru Gardens, Nairobi
On 13 October 2012, Wheels of Africa and HENZO Kenya held a bicycle rally to raise awareness around the impacts of cancer on patients and families.  HENZO Kenya, an affiliate of the Kenya Cancer Association, is a registered support group for patients of cancer, caregivers and volunteers. Since 2010, Cycling to Stomp out Cancer has been an annual event, bringing together health care professionals, community members and patients in the fight against cancer.
Wheels of Africa is dedicated to progressing the culture of cycling in Africa. Our vision is to mainstream cycling as a lifestyle and an alternative mode of transport in Africa.  With this we wish to broaden access to bicycling and all its benefits through hands on programs, commuter transportation, enterprising projects and events.
Together with the Ministry of Nairobi Metropolitan Development and the Nairobi City Council, Wheels of Africa aims to increase the percentage of trips by bicycle in the city of Nairobi, while simultaneously increasing the number of kilometers of bicycle lanes in the city. The new lanes will be dubbed, "the Green Lanes", and they will include facilities for parking and locking bicycles throughout the Nairobi metropolitan region.
These bicycle-friendly infrastructure improvements will be the first step in lobbying the city around the importance of creating a Non-motorized Transportation Master Plan for Nairobi.
Wheels of Africa is seeking research interns who can help collect baseline information for both the planning of bicycle-friendly infrastructure and a future Non-motorized Transportation Plan. We are currently seeking grant funding to carry out this work, and appreciate any contacts or public input.