Today, Ipsos Ltd released an opinion poll on transportation in Nairobi. Funded by the Center for Sustainable Urban Development and released with the Kenyan Alliance of Resident Associations, the poll (full results here and a video of highlights here) asked over 800 Nairobi residents what their transportation experiences and concerns are. Too often it seems that transportation experts do not consult with the users of transportation services and roads-forgetting that most people walk or ride matatus. The poll looked at car owning households (401) and a representative sample of Nairobi citizens (415)  with an error bar of +/- 4.9%.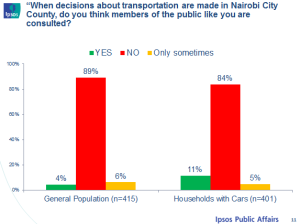 First, the poll shows that Nairobians clearly do not feel that they are consulted in transportation decision-making. When asked "when decisions about transportation are made in Nairobi City County, do you think members of the public like you are consulted?" 89% said no. Mr Martin Eshiwani of the Ministry of Transportation and Infrastructure who attended the release conceded that more could be done to connect with the public. The opinion poll, which is becoming more common as a tool for planners, piqued his interest.
Secondly, Nairobians agree completely on some issues. The poll indicates mass support for flexible work hours (91%) and slower speed limits generally (68%) and near schools (98%) especially.These findings are roughly the same whether your household has a car or not. Note that a lower speed limit near schools is the point of contention for some members of parliament when considering passing the Traffic Amendment Bill 2014.  The bill proposes 30 km/hr, and some MPs in the transportation committee want to change this to 50 km/hr, the existing general speed limit. Bright Oywaya of the Kenyan Road Safety task force noted that the survey supports passage of the Traffic Amendment BIll 2014 as is. She explained that if a child is hit at 30 km/hr, the survival rate is 90%. As speed increases the survival rate plummets. This is the scientific reason for the 30 km/hr limit near schools in the Bill. The results also show that a majority of children walk or take a school bus or matatu to work and that roughly a third of parents think this is unsafe or somewhat safe. Road crashes and poor driving as well as crime remain concerns for parents.
It is no surprise to many that the majority of people take matatus (71%) and walk (42%) every day. It is clear that rail and cycling are very neglected as transportation modes with very few using them on a regular basis. Even car owning households use matatus (37%) and also walk (27%). Security for those taking matatus and personal cars, waiting for the bus or walking on the streets is a major concern.
Most interesting is that about a third of people including those with access to a car would consider riding a bike to move around if there were special lanes for bikes. This reflects the growing interest among the middle class in cycling, but the current transportation infrastructure does not support this interest that if realised would help with congestion. Cyclists have started to develop a cycling map of Nairobi that indicates where they would like to see new lanes.
Air quality is also an issue with a majority of people deeming the air bad or very bad (69%) and seeing an impact on their health (93%). Transportation is a major source of Nairobi's air pollution. Still, the majority of people without cars aspire to have one; if current neglect of walking, cycling, rail and matatu improvements continue, then the city is even in more trouble. Already, those surveyed said they lost one hour or more on a typical weekday (48%), a figure that rises to 57% among people in car owning households. Over a third of people lost a job or business opportunity because of transport problems. This may be why many car users in the city seem interested in other options.